Friends,
I hope this finds you safe and staying afloat. These times make clear the need to improvise and stay inspired. Together, we will get through this!
For #GivingTuesday, moved to May this year to make up for all the ways nonprofits haven't been able to conduct "business as usual," we want to give you a sneak peek into our new video project to uplift activist voices to inspire next-generation leaders in health and human rights.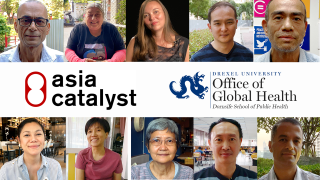 These activist stories must not be lost. Pioneers of LGBT, sex worker, HIV, and drug user movements have essential lessons to share, including about how they've confronted crisis. Our video interviews with global activists will be part of a new, online interactive course we're creating with Drexel University's School of Public Health; it's based on our signature Know It, Prove It, Change It rights curriculum, developed in partnership with a wide range of activists from across Asia.
This open-access course and video library will be freely available to anyone, anywhere, who is battling injustice, rights abuses, or is denied access to services or healthcare, including in the COVID-19 response.
Happy Giving Tuesday! Please donate so that we can continue to support the frontlines activists who have changed our world for the better. And if you have concerns or needs tied to what your community is going through right now, please don't hesitate to reach out.
All the best,

P.S. If you prefer to write a check, you can mail your donation to: Asia Catalyst c/o Human Rights Watch, 350 Fifth Ave., 34th Floor, New York, NY 10118 USA.