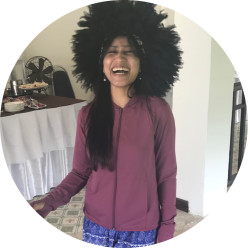 Asia Catalyst shares insights and parting words from our beloved team member, Jebli Shrestha, Bangkok-based Documentation and Advocacy Program Manager since 2015.
What motivated you in your work to support human rights documentation and advocacy capacity among grassroots groups in Southeast Asia?
It is the community-based organizations (CBOs) and their communities that inspired and motivated me. Our partner CBOs work with and represent communities at the local and national levels. They have an excellent understanding of community needs, and are passionate about promoting and protecting their rights.
They effectively use their limited resources to improve the lives of their communities. Many volunteer their time to provide services, share experiences, and provide all kinds of other support. Limited resources have not stopped them from doing this work, and this inspires me to provide whatever support for their advocacy work that we can.
Lived experience makes communities their own best advocates. Their stories of resilience in the face of surmounting socio-political, legal, and cultural barriers should inform national and global policymaking. I was motivated to help them build skills in documenting these experiences and use that evidence to shape policy.
My work at Asia Catalyst enabled me to become part of the community, in the sense that our partners become my friends. They have repeatedly expressed how much safer they feel in sharing their stories in the spaces we have created. We have a good capacity building model, and our curriculum and facilitation style allow for sharing experiences.
You were the architect of Asia Catalyst's Regional Rights Training Program. Tell us some highlights/outcomes of that program, and how its legacy lives on!
The Regional Rights Training (RRT) program brought together grassroots groups from four countries: Cambodia, China, Myanmar, and Vietnam. We created an online space for the CBOs to share their work. In the beginning, it took much effort for us to encourage people to share their work. They would send it directly to me, and with their permission I would share it with in the group platform. But gradually, people started sharing and, before long, didn't need me to facilitate these conversations. They gave input across countries, unprompted by us. Later, the participants told us that it was the first time they learned so much about the work of other CBOs in different countries. Cultivating this knowledge and experience sharing across groups was one of the highlights of the program.
The RRT program also allowed for joint projects. Successful join documentation and advocacy projects were carried out by CBOs in Cambodia and Myanmar. Though the financial contributions we provided were relatively small, they supported the CBOs' ongoing advocacy work in tangible ways. Another highlight from the RRT Program was the expansion of our documentation and advocacy training work in Myanmar, where we now have a staff person and additional partner groups. Finally, the personal friendships I developed through this work with community actors and advocates will remain with me wherever I go.
The political, fiscal, and legal landscapes have changed over the years that you have worked in Southeast Asia. How have those changes affected our grassroots partners?
Some of our CBO partners in Cambodia and Vietnam have ceased operations as a result; others are running completely by volunteers. There is also fear, among activists receiving support from the Global Fund to Fight AIDS, Tuberculosis and Malaria, that the Fund's retreat and consequent need to depend on their national government for support will negatively impact human rights advocacy work, particularly for marginalized and criminalized groups.
The region's increasing intolerance of rights, such as freedom of expression or association, and its growing religious extremism affecting the rights of women and sexual minority groups, will also affect our advocacy to end stigma and discrimination against people living with HIV, LGBT people, people who use drugs, and sex workers. On the other hand, I think there are opportunities. A growing number of countries are liberalizing their policies on same-sex relations and enacting other anti-discrimination policies. While the "war on drugs" approach by political leaders in countries like the Philippines or Indonesia to score support, countries such as Myanmar and Thailand seem to be slowly steering towards more rights-based drug policy.
What do you think is the biggest challenge facing Asia Catalyst's partners? What can be done?
It is necessary in this hostile environment to strengthen alliances across movements: Not just for the HIV community, but the women's rights movement and other so-called mainstream human rights movements as well. Our issues are interconnected, and I think we need more collaboration. Groups and nations that are regressive on women's and minority rights are getting ever stronger in traditional human rights spaces like the United National. It is more necessary than ever for us all to make an effort to link in and build solidarity and support across movements.
I also feel that, perhaps due to perceived donor interests, our politics as activists in general have been diluted; community issues are deprioritized and depoliticized in favor of appeasing the donors. With the changing fiscal landscape, perhaps local community issues and ways of addressing them will be re-prioritized.
Any great lesson(s) or other takeaway you have learned in this work, from partners or otherwise?
Communities know best. Invest in grassroots communities. Even through hostile financial, legal, and political climates, communities will try to find ways to fix their issues. Communities are resilient and resourceful, as perhaps for them, there is no other choice. We must always remember that our role is to support what they know is best for them.
We know you will move on to do great things. What do you hope for your future?
I don't know about great things 🙂 but I would like to continue my work in supporting community resilience in protecting and promoting rights advocacy work. Someday, I hope I become a confident and eloquent advocate for non-discrimination and equality for all people in the region.